For printing that really moves, think Custom Lenticular.
What is Lenticular? Similar to holograms, lenticular printing can create dazzling 3D effects, eye-catching image flips, and even animation on a flat printed surface!
Imagine this: You're filtering through all the business cards you've just been given at a luncheon or you're at the local bookstore shopping for a new read. As you go through the cards or book titles; suddenly – you stop. You can swear you just saw one of them move. You can't resist, it's almost as if it's calling you and without thinking about it, you reach for that card/book. Your full attention has been captivated and what you're looking at does move – as if truly coming alive.
That is Lenticular.
At Custom Lenticular, we aim to re-invent your perspective and elevate your standards to go beyond your ordinary printing job. The immediate eye-grabbing detail and illusion created by Custom Lenticular will set all of your printed media apart from the traditional. Nearly everything you need to print will be transformed into not just a piece of paper – but a conversation piece that goes beyond its intended purpose.
Here are some ways you can leave your mark:
Lenticular Postcards
Lenticular Business Cards
Lenticular Posters
Lenticular Signage
Lenticular Stickers
Lenticular Bookmarks
Lenticular Book Covers
Lenticular Packaging
Lenticular POP
Lenticular Buttons/ Badges
Lenticular Luggage Tags
Lenticular Coasters
Lenticular Magazine Tip-Ons
Lenticular Magnets
Lenticular Gift/Phone Cards
Lenticular Shelf Talkers
Lenticular Magazine Inserts
Custom Lenticular printing always gets noticed.
The expression rings true: Out with the old, in with the new! In this day and age, innovation goes farther than it ever has. With access to almost anything just click away, setting yourself, your business, or your product apart has become more challenging than ever before. Lenticular printing will truly move your business to the next level as the almost magical effects and illusions redefine your business, events, and promotions for an extraordinary experience that will make your clients and customers do a double-take.
Printed on durable plastic material, your advertising and promotional media will positively increase your overall presentation and credibility. The reason for choosing lenticular is simple: Be an impressive cut above the rest as lenticular printing does all the talking for you.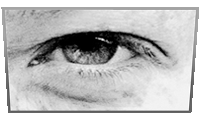 A Brief History of Lenticular Printing
Modern lenticular printing has been around since the 1940s, with roots going back to the invention of the Stereoscope in the early 1800s. Some of the most well-known examples of lenticular printing are the prizes given in Cracker Jack boxes showing images such as a blinking eye. Modern examples include advertising graphics, like the kind often seen in airports. Originally used as novelty items, lenticular is now a powerful marketing tool.
Recent advances in lenticular printing technology have improved print quality and reduced costs, making lenticular an affordable option for advertising, direct-mail, and even fine art. Lenticular turns any printed piece into a captivating keep-sake.
How it works

A lenticular image is actually made from two or more images that are electronically sliced into narrow strips and re-assembled in alternating order. This is called interlacing.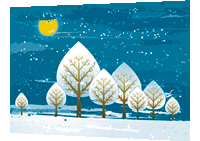 This interlaced image is then printed (in reverse) on the back of a clear plastic sheet. The front of the sheet has many long, thin ridges running along the surface, which are actually lenses – as few as ten and as many as 200 per inch – called lenticules. These lenticules act as miniature magnifying glasses, magnifying only one set of the strips at a time (depending on the viewing angle) and effectively blocking out the other set(s). When the viewer moves, or if the picture is turned, a different set of strips is visible, and the printed image appears to change.
3D on a Flat Surface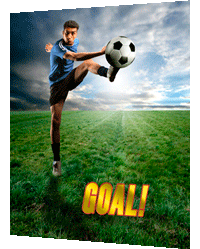 In the case of 3-D lenticular, the interlaced file is composed from a sequence of images of objects that appear to pass in front or behind each other. The stereoscopic effect is achieved because the lens shows a slightly different view to your right eye and your left eye, tricking your brain into seeing depth. This 3-D illusion can be used along with flipping, animation, or other effects for some truly spectacular imagery.
Lenticular is a fast-growing industry, with Custom-Lenticular.com at the forefront. Take a look at our portfolio to see some of the pieces we've created for clients over the years.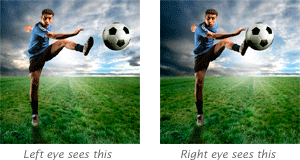 Seeing is believing. Here are some of the pretty things we've made at Custom Lenticular.
Custom Lenticular has created custom pieces for companies both big and small. We take your desired designs seriously, so we can produce a fun-packed item that will absolutely blow your mind and create incredible stopping power for anyone you share it with. Below are some of our favorites. The sky is the limit here at Custom Lenticular and we're ready to work with you!
Signage
Soda Fountain Sign
In-store display for Love's Travel Stops, incorporating 3D and "zoom" effects. These can be seen in over 50 locations around the country.
Signage
Restaurant Wall Decor
Wall decor for an upscale sushi restaurant in Washington DC. Our artists were able to create this 3D scene from a single photograph.
Poster Design
GMU Basketball
A lenticular poster comissioned by George Mason University to commemorate the Men's Basketball Coach's winning 2005–2006 season. The event was really special, and so was the poster.
Poster Design
Lafayette University Football
A lenticular poster comissioned by Lafayette University to commemorate their 2004 Patriot League Championship.
Poster Design
American Monster
A lenticular poster produced for the Monsters HD cable channel. We created a short animation using a series of illustrations.
Poster Design
Long Island Blues
A lenticular poster made for a junior hockey league on Long Island.
Direct Mail
LAS Postcard
A lenticular direct mail piece created for a New York area real estate appraiser.
Trading Cards
Coke/NASCAR Trading Cards
A collect-all-four set of lenticular pieces created for Coca-Cola and Food Lion supermarkets.
Trading Cards
Transformers
A set of lenticular trading cards created for Topps for the release of the 2007 Transformers movie.
Miscellaneous
Nick Hotel Luggage Tag
A lenticular luggage tag created for Nickelodeon's Nick Hotel. We were able to capture a short movie on a flat printed surface.
Miscellaneous
WrestleMania 23 Security Passes
Lenticular security passes created for WWE's WrestleMania 23. The WWE chose lenticular technology to thwart counterfeiters.
Miscellaneous
Santa Loves Lacrosse
A lenticular Christmas ornament created as a fund-raiser for a local lacrosse team.
Begin your own
custom lenticular project right now!
We just need a little information first. Fill in the form below as completely as you can, and you will receive a reply within one business day.